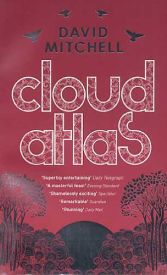 Description:
" From David Mitchell, the Booker Prize nominee, award-winning writer and one of the featured authors in
Granta
's "Best of Young British Novelists 2003" issue, comes his highly anticipated third novel, a work of mind-bending imagination and scope.
A reluctant voyager crossing the Pacific in 1850; a disinherited composer blagging a precarious livelihood in between-the-wars Belgium; a high-minded journalist in Governor Reagan's California; a vanity publisher fleeing his gangland creditors; a genetically modified "dinery server" on death-row; and Zachry, a young Pacific Islander witnessing the nightfall of science and civilisation -- the narrators of Cloud Atlas hear each other's echoes down the corridor of history, and their destinies are changed in ways great and small.
In his captivating third novel, David Mitchell erases the boundaries of language, genre and time to offer a meditation on humanity's dangerous will to power, and where it may lead us."
My thoughts: I had heard before reading this book that it had complicated, overlapping storylines. To be honest, I wasn't sure if I would like the book, and in fact, almost stopped reading it during the first section (Journal of Adam Ewing). However, as I continued through the sections and stories, I gradually liked it more and more. I especially liked the sections featuring Luisa Rey, Somni the fabricant, and Zachry.
Date finished: 1/15/2007
Rating: 4* = great
Book No. : 5
Genre: Fiction
ISBN-10: 0340822783
ISBN-13: 978-0340822784
Publisher: Sceptre
No. of pages: 544
Binding: Paperback